Tell it to the Stones

Jean-Marie Straub (*1933) and Danièle Huillet (1936–2006) met one another in Paris in 1954. He wanted to make a film about Johann Sebastian Bach and she thought: "He's planning to do far too much; he won't manage it alone." It was the beginning of a 50 year collaboration, which created one of the most unconventional and controversial oeuvres in modern cinema. Soon after their first encounter, Huillet and Straub left France and moved to Munich, because Straub refused to be drafted for military service in Algeria.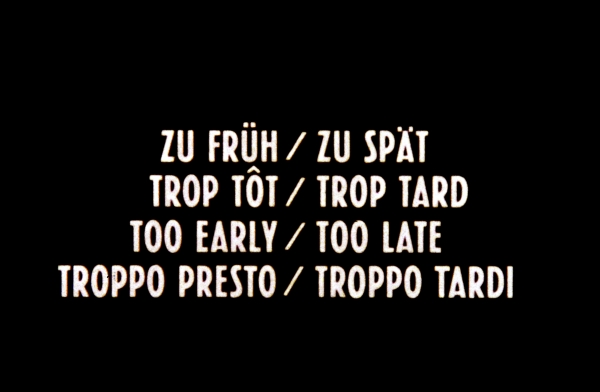 Filmstill Too early, too late (Huillet/Straub, 1980/81)
The Chronicle of Anna Magdalena Bach was only realised in 1967. Two adaptations, based on literary works by Heinrich Böll, were created before it – Machorka-Muff (1962) and Not Reconciled, or Only Violence Helps Where Violence Rules (1964), whose unconventionality was the beginning of a new German cinema for some, while others saw merely a lack of respect towards traditional cinema and the German language. Their films were deemed amateurish, arrogant and utterly modern, and in response Straub insisted that they were entirely conventional and rooted in the tradition of Griffith, Ford, and Mizoguchi. These contradictions persisted and would become formative. However, what at first appeared as mere provocation became a floodgate on closer inspection, through which they forever changed what we see on the screen. Their films call for increased attention to sounds and they invite us to a new perception of how bodies, voices, landscapes, and through them history and politics, are made present in movies.
Today, this body of work comprises nearly 50 films, including 17 short films, which Straub has realised digitally since the death of Danièle Huillet (2006). The two-month programme, Tell It to the Stones – The Work of Danièle Huillet and Jean-Marie Straub, opens new avenues to this uncompleted oeuvre, which has long been viewed as anachronistic and hermetic, but can now be experienced as open, playful, and radically contemporary. The title makes reference to a piece of advice that Danièle Huillet once gave to an actor, who did not quite know to whom he should address his monologue during a rehearsal of Antigone (1991). However, in this incidental instruction to "tell it to the stones" an expression of a working method was crystallised, which gives the same attention to any element – whether a tree, stones, a snake, the light, clouds, a voice, rustling – while adamantly refusing to be hemmed in by the dogma of communication.
An Akademie der Künste project in cooperation with BELVA Film, Zeughauskino, Kino in der Brotfabrik, fsk Kino. Curated by Annett Busch and Tobias Hering, advised by Antonia Weiße.